Why do we offer Mechanical Engineering for You?
The Bachelor of Science (B.Sc.) Study program in "Mechanical Engineering" provides all necessary skills for young Mongolians, who want to work in Manufacturing, Construction, Transportation, Mining, or the Energy sector. GMIT students and graduates will find industry-employment in areas, where design, develop, manufacture, maintain and repair of any kind of machines is needed.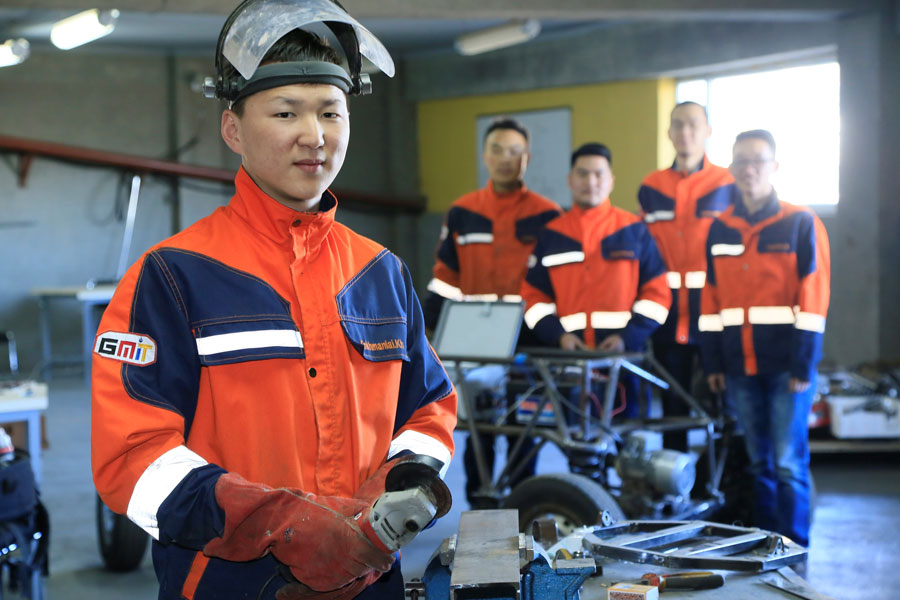 Why shall you study Mechanical Engineering?

Mechanical Engineering is well recognized as the "Queen of Engineering". Mechanical Engineering, in a nutshell, can be summed up as 'ESTM'. The meaning of 'ESTM is to design 'Tools' which connect 'Energy' to 'Man' through 'Space'. Actually, from the primitive society people practiced Mechanical Engineering by making simple tools, like crude stone axes and clay bowls. As human society develops, the tools become crucial factors for social and economic revolutions. In human history many generation had watched how the invention of tools changed dramatically the way of thinking, human lifestyle, and the world. Mechanical Engineering has always played an important role for these changes. The future of a new scientific revolutionary era will not be possible without mechanical engineers and the Mechanical Engineering Program of GMIT should be the first step to take, if you want to lead the change in the future.
Why to get your Engineering degree from GMIT?
Teaching and research at GMIT are characterized by strong practice-orientation and dedication to foster creative and critical thinking. This practice-orientation, the promotion of professional and personal development of its students, and the international character of our university, makes GMIT a model university in Mongolia. The Bachelor of Science in "Mechanical Engineering" is following a four years (eight academic semester) undergraduate education program with 240 Credit Points (ECTS), according European standards. The international accreditation also provides to students the flexibility of continuing their studies in the European Union and other countries later on. Because the language of instruction is English (German language comes later on, too), students are fully qualified to work in international contexts later on. Furthermore, the study programs have a strong-practice orientation. Besides lectures, students are trained in the lab as well as in the field. Excursions, meetings with practitioners and professional internships connect students to potential employers and provide insights into future career options. Last but not least, educating students who can apply international (German) expertise to local (Mongolian) context and thereby create added value is the core of engineering education at GMIT.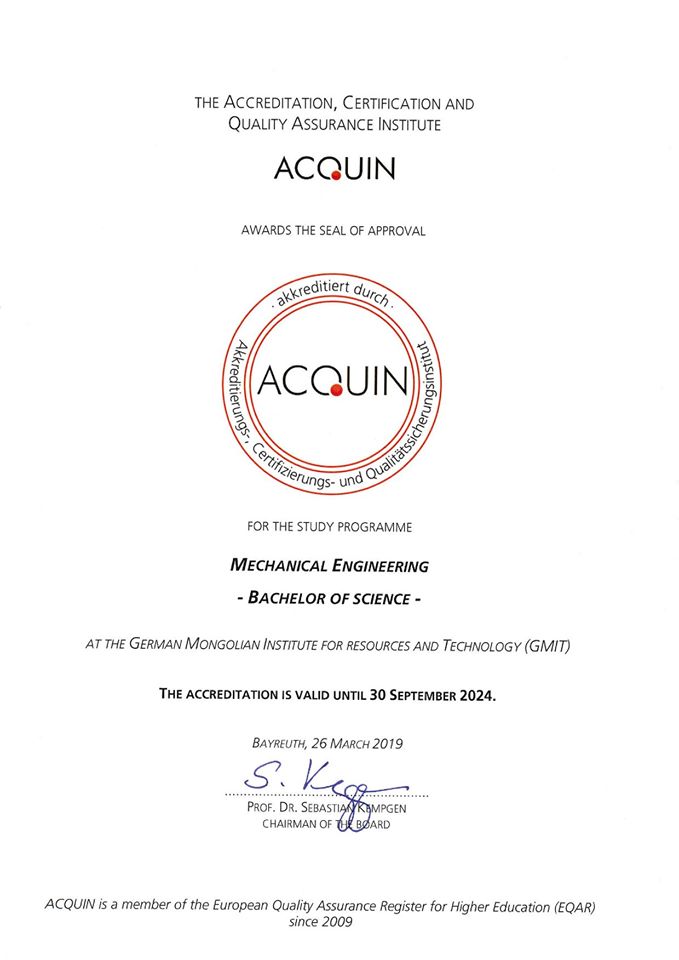 The graduates of Mechanical Engineering who have appropriate knowledge and skills can work in all areas related with manufacturing tools, like robots, cars, electric machines, airplane, and mining sector. Additionally, Mechanical Engineers can be hired not only in research and development, but also in production and operations of goods.
Our Bachelor's degree in Mechanical Engineering meets the European standards of education, which means your GMIT degree will be recognized as equal as a degree from other accredited European universities. Furthermore, most of our academic staff in GMIT earned their Ph.D. degree from abroad including Germany, the USA, China, Korea, and Japan. Thus, our professors and lecturers have international experiences and global sense. They are very open-minded to colleagues and students. So, the relationship between teaching staff and students is not like the traditional one as in other Mongolian universities.
Our academic staff considers students as their research colleagues and friends. The students of Mechanical Engineering will be offered a lot of opportunities for participating in industrial project research. Through research, students can develop research potential and will be acquainted with industry practices. Due to this unique advantage, our students have been well appreciated by Mongolian and international companies. Additionally, our senior students have to join the "Final Study Project" at the end of their studies. This hands-on module is very unique in Mongolia: During the Final Study Project, our students collaborate and do research on a real-world case with the students from Germany and the United States. Through this project, students can learn how to communicate and cooperate with peers to achieve a specific goal.
The GMIT Mechanical Engineering program is deeply embedded in the excellent international partnership with German Partner universities. During the first year, our students have a chance to go to Germany for summer school. Additionally, our students can study at the German Partner universities in their senior year for one or two semester, based on the student exchange program. The advanced professional modules of our study program are strongly practice-oriented and design-oriented.
Our students and graduates can apply the knowledge and skills learned directly on the job after graduation. Finally, at GMIT, we emphasize not only the professional core modules, but also the soft skills such as intercultural communication, language, cooperative ability with other students, economic concepts, and project management.
Following requirements are needed to join the Bachelor program at GMIT:
Completed secondary education;
GMIT English Language Examination C1 (advanced) and B2 (upper-intermediate);
Mongolian General Entrance Examination (GEE) score 650 or above in both Mathematics and Physics.
If your GEE and English language exam results are under the following requirements, you can join the Basic Engineering Program (BEP): The Basic Engineering Program requires a score higher than 600 in Mathematics of GEE and an English language proficiency of minimum B1 (intermediate). The Basic Engineering Program helps you to improve your natural science, English and soft skills. The BEP guides you into GMIT's B.Sc. programs.

Tuition fees:

B.Sc. degree program: MNT 108,000 per credit point
Accommodation on Campus (shared 4-bed room): MNT 520,000 per year
During the first four semesters, students receive a general background knowledge in science and basic engineering approaches as well as technical English. Modules in engineering mechanics, materials science, CAD, and engineering design prepare them for their future specialization in mechanical topics. Building on this solid basic understanding, the students specialize in mechanical science and technology from the 5th to the 8th semester, including the following modules:

5

th

semester
7

th

semester

Production Process Technology
Mechanical Process Engineering I
Hydraulic and Pneumatic Drives
Engineering Mechanics IV
Finite Element Method
Health-Safety-Environment
Electives

Structural Durability and System Reliability
Production and Process Simulation
Mechatronics & Automation
Open Pit Excavation + Underground Mining Machines
Scientific Writing
Electives

6

th

semester
8

th

semester

Engineering Mechanics V
Virtual Product Design
Energy Systems
Industrial Internship
Electives

Classifiers and Mixers + Coarse Comminution Machines
Final Study Project
Bachelor Thesis
Electives

The strong practical focus of this Study program is underlined by modules such as the 14-week industrial internship during the 6th semester and the final study project in the 8th semester, in which GMIT students work in a group to solve a complex challenge which is defined by Mongolian industry.
1. Always keep in mind that the essence of engineering problems ist ultimately to compute demand and supply.
The theories and principles you learn in Mechanical Engineering are to help you to compute the demand and supply of structure or system. For example, let's say you are designing a water pump to supply water to a factory - what are you going to do? Firstly, you need to compute the water demand of the factory per day. Secondly, you have to design and compute the power or capacity of the pump, so that the supply of the pump is greater than the water demand. This is a very simple example, but nearly all engineering problems can be thumbed-up like this.

2. Don't be afraid of mathematical formulas.
In Mechanical Engineering, models mostly are expressed in mathematical form, as well as language definitions. All models (i.e. mathematical formula or definitions) in Mechanical Engineering have been developed by genius minds by endless efforts through centuries. When you see a mathematic formula, you should imagine a natural phenomenon that is described by the formula and vice versa. Then, to study Mechanical Engineering will become a very exciting thing. Don't forget that natural phenomenon and a corresponding model can be exchangeable.

3. Thoroughly understand and stick to the definition of engineering terms.
When engineers communicate with each other, they use common engineering terminology. So, having a clear definition of engineering terms is very important in studying Mechanical Engineering. If you know the exact definitions of engineering terms, you can build your advanced knowledge on that solid foundation and it will be very strong.

4. Learn how to deal with probabilistic problems.
The nature of engineering problems are basically probabilistic. But engineers simplify probabilistic problems into deterministic ones. Nowadays, however, with the advance in engineering theory and computational skills, it tends to shift from deterministic to probabilistic way of solving. To prepare for it, you should frequently visit the subject like Statistics and Probability.

5. Everything should have an adequate reason.
Engineering is like a stacking-block game. You should stack blocks one by one. Every block should be on top of the other blocks below. So, when you present something, or write a report, or propose ideas for a project, try to make a good support or reason of your suggestion. Every block should be well connected and supported with each other to stack a high tower. Please keep in mind that even a single number in your presentation slide should have a reason why it should be that number.

6. The importance of basic courses: Statics, Dynamics, Mechanics of Materials, Statistics, and Probability.
The knowledge in Mechanical Engineering is hierarchal, which means if you want to go further to advanced knowledge, you should master the basic courses. So, you should study hard the subject like Statics, Dynamics, Mechanics of Materials, and Statistics and Probability. Then you can easily build up advanced knowledge.

7. Actively communicate with your professor.
The professors are here to help you. So, if you have questions about courses or need help or counsel, meet them, and ask for help. They would love to help you. The more acquainted with professors, the easier the university life is.

8. Train your mind to break down a big complicated problem into many small pieces.
Most mechanical engineering design involves very complicated problems. That's why often a huge project is divided into many small parts. Thus, during your university years, try to break down a problem into several steps to tackle the problem. Once it becomes your habit, you will not feel awkward, when you have to solve real complex problems.

9. Ask "So what?" and "What if…"
When you learn something, ask those two questions to yourself. During class, if you just passively receive the knowledge transmitted from professors, your brain will stop working and fall into sleep. But if you are asking these questions to you, your brain will be stimulated and actively participate in the class. The question "What if" will lead to other applications by broadening your understanding, and the question "So what?" will deepen your thinking to profound concepts.

10. Equip yourself with creative thinking and design capability.
As a mechanical engineer, you should design a system or structure with creativity. The world - you will live in 10 years - will require you to show your own creative mind in artistic sense. How can you encourage it? Read many books, especially so called "classic books", and find the beauty of Mongolian art and nature. In addition, learn any kind of arts. It can be music or painting or photograph or dancing, etc. It will help you to be creative!