Academic & Student Affairs
GMIT is providing comprehensive services to students, in order to support students' academic and personal development while considering individual student's needs and interests. Students' academic and personal progress is closely monitored by the Academic and Student Affairs Department (ASA), and students are strongly encouraged to contact ASA according their studies and personal issues. The Academic and Student Affairs Department takes care about Student guidance, Career Service, Library, Academic administration, Scholarships and Governmental loans, Study statistics, Administrative tasks, Dormitory management, and Alumni network.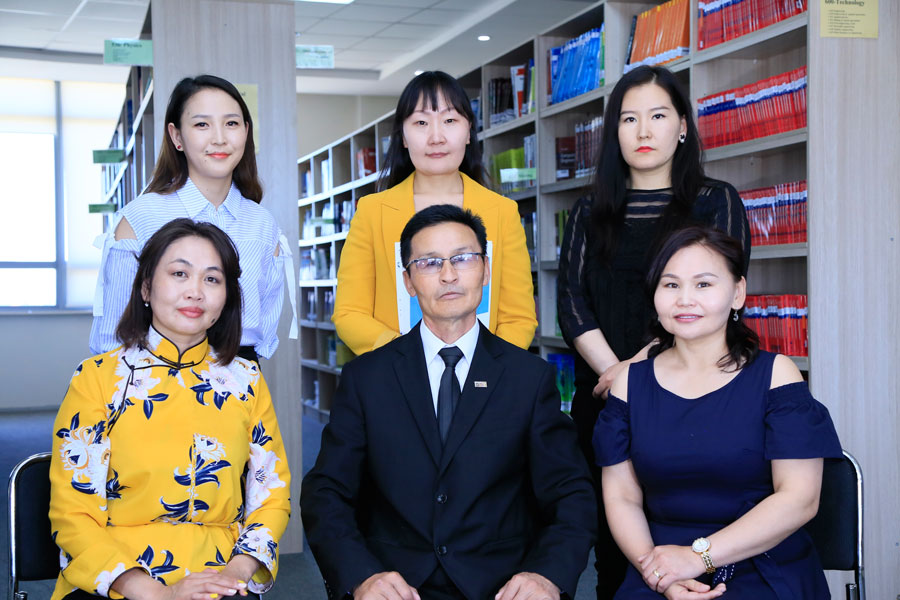 Badamtsetseg.B (Librarian), Damdin.G (Dormitory Coordinator), Goomaral.S (Academic Affairs), Battsetseg.A (Acting Head of Department), Undarmaa.E (Student Affairs), and Altantuya.G (Dormitory Coordinator - not in the picture)
Orientation week:
For newly-enrolled students, ASA organizes an orientation week before the academic year starts, in order to prepare them for the student life at GMIT. Each student will get acquainted with all relevant rules, regulations and will receive detailed information and guidance. The orientation program provides valuable information according to student life at our university campus.
"Out-of-Box" event:
Based on students' personal development, various lectures and seminars are organized by the Academic and Student Affairs Department (ASA), e.g. the "Out-of-Box" event. To bring new and old students together, the "Out-of-Box" event takes place every semester, since 2015. Students from different academic level (BEP, freshman, sophomore, junior, senior) have the opportunity to connect with each other while meeting with GMIT professors/staff members or with inspirational guest lecturers. During each event, presenters are invited to have an open discussion with the students. The topics of the "Out-of-the-Box" event are driven by the GMIT students, and strive to be encouraging and motivating.

Career Service:
Since 2017, ASA and the Human Resource Department have started with Career Service, in order to prepare GMIT students for the demands of the Mongolian industry. The main objectives of Career Service is to assist students in their career goals through a broad variety of activities such as guidance on career planning, interview techniques, and CV & Cover Letter writing. The Career Service is available for all GMIT students on all levels.
Scholarships and Governmental loans:
GMIT offers scholarships to support students' academic performance and extracurricular activities:
1) GMIT scholarships, 2) DAAD scholarships
. During the fall semester, 2018-2019, around 45% of all enrolled GMIT students got a scholarship or received Government financial aid and loans. Besides these scholarships and Government loans, students can do part-time jobs at GMIT. Currently, students are working in the Library, Computer Laboratory, and at the Language and Didactic Center.
Academic performance support:
Students' academic performance is being supervised by the Academic and Student Affairs Department (ASA) constantly. Students who struggeling with their academic performance are asked to have a 1-0-1 counseling / coaching with the ASA staff and a faculty member. Together, strategies and step-by-step guidelines are developed, in order to help the respective student to improve his/her academic performance.