Why do we offer Industrial Engineering for You?
The Bachelor of Science (B.Sc.) Study program in "Industrial Engineering" provides all necessary skills for young Mongolians, who want to learn how to combine engineering knowledge with financial and managerial skills in order to eliminate waste in new or existing manufacturing processes – waste in any resource that does not create added value, for example raw materials, equipment, time, inventory, human and financial resources. With growing consciousness about careful use of limited resources both globally and locally, industrial engineering becomes the crucial connector between different disciplines. Therefore, GMIT students and graduates find employment in Manufacturing, Mining and Energy sector, Logistics, Health and Safety, Consulting, Public Service, and at Municipal and Government agencies.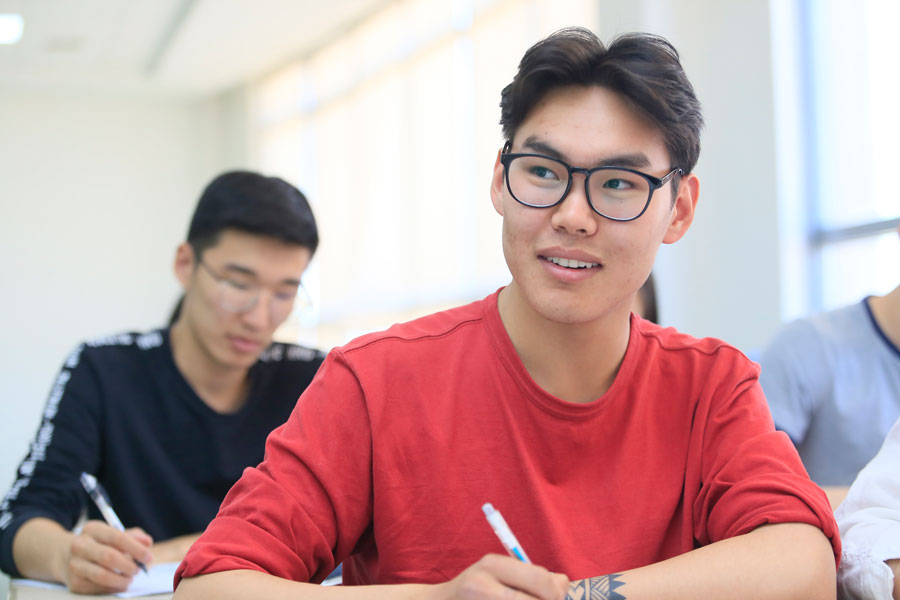 Why shall you study Industrial Engineering?

The Bachelor degree program "Industrial Engineering" aims at providing knowledge, abilities and competencies in engineering, economics and business administration, in order to enable you to deal with the management of systems that integrate people, materials, and energy in productive ways. It covers topics such as process engineering, operations, supply chain management, engineering design, quality management, business informatics, marketing, project management, and others. During your studies at GMIT, you will be equipped with the essentials of both the management and the engineering business functions. The Study program in Industrial Engineering prepares you for a successful career in the Mongolian or international industry.
Why to get your Engineering degree from GMIT?
Teaching and research at GMIT are characterized by strong practice-orientation and dedication to foster creative and critical thinking. This practice-orientation, the promotion of professional and personal development of its students, and the international character of our university makes GMIT a model university in Mongolia. The Bachelor of Science in "Industrial Engineering" is following a four years (eight academic semester) undergraduate education program with 240 Credit Points (ECTS), according European standards.The international accreditation also provides to students the flexibility of continuing their studies in the European Union and other countries later on. Because the language of instruction is English (German language comes later on, too), students are fully qualified to work in international contexts later on. Furthermore, the study programs have a strong-practice orientation. Besides lectures, students are trained in the lab as well as in the field. Excursions, meetings with practitioners, and professional internships connect students to potential employers and provide insights into future career options. Last but not least, educating students who can apply international (German) expertise to local (Mongolian) context and thereby create added value is the core of engineering education at GMIT.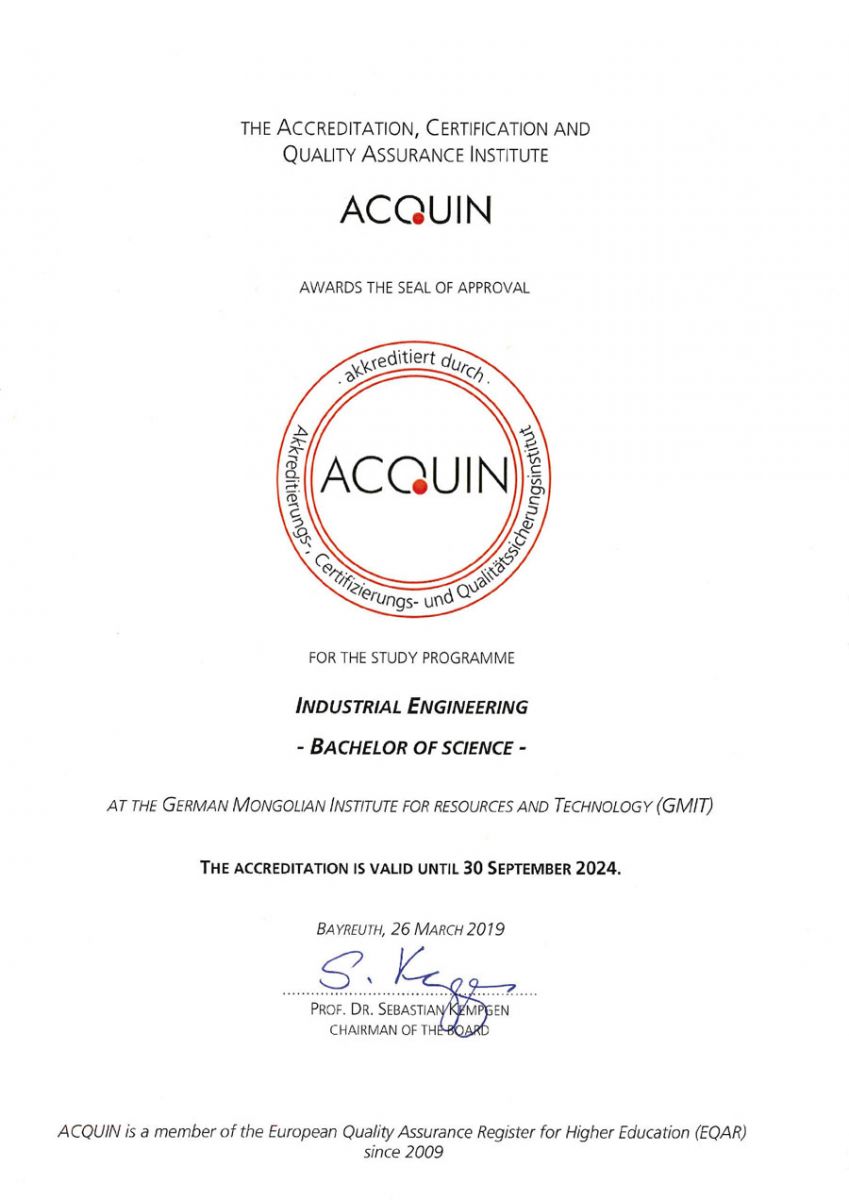 The employment of industrial engineers is projected to grow around 8-10 percent over the next ten years globally, faster than the average for all occupations. This occupation is adaptable both in the nature of the work it does and in the industries in which its expertise can be put to use. Industrial engineers are employed in a wide range of industries, including major manufacturing industries, consulting and engineering services, research and development firms, and wholesale trade. This flexibility arises from the fact that these engineers focus on reducing internal costs, making their work valuable for many industries.

The global trend to relocate manufacturing sites from overseas to domestic, the growth in healthcare, and changes in how healthcare is delivered will create demand for industrial engineers in firms in professional, scientific, and consulting services. Many companies will be seeking to make use of new technologies to automate production processes in many different kinds and those with knowledge of manufacturing engineering may find very good prospects for employment.

Some industrial engineering jobs are Quality engineers, quality systems engineers, automation engineers, building maintenance engineers, project engineers, systems and process engineers, supplier quality engineers, logistics engineers, process improvement engineers, yield engineers, automation control engineers, operations engineer, health and safety engineers, quality engineering managers, reliability excellence managers, architectural and engineering managers, operations managers, project managers, industrial production managers, plant engineering managers, industrial planners, logisticians, management analysts, cost estimators, industrial engineering technicians, quality technicians, quality control inspectors, etc.
GMIT's Industrial Engineering study program exposes students to a vast variety of economics/management science and engineering disciplines, helping them to connect different fields and learn in interdisciplinary grounds, preparing them for a multitude of responsibilities in their future jobs. Thus, it is a unique study program of its kind in Mongolia and the graduates of Industrial Engineering from GMIT will be able to:

apply mathematical, engineering and economic principles for optimization of processes and systems in any kind of manufacturing;
apply information science and analyze big data for solving manufacturing problems;
apply their knowledge in different fields or sectors by recognizing and analyzing complex problems, and developing integrated engineering and economic solutions;
assess, design and implement value chain management;
work in teams with people of diverse expertise and different backgrounds; connect them meaningfully in order to solve comprehensive and interdisciplinary problems;
form connections between people and processes; and
customize their profession to their interest.
Following requirements are needed to join the Bachelor program at GMIT:
Completed secondary education;
GMIT English Language Examination C1 (advanced) and B2 (upper intermediate);
Mongolian General Entrance Examination (GEE) score 650 or above in both Mathematics and Physics.
If your GEE and English language exam results are under following requirements, you can join the Basic Engineering program (BEP): The Basic Engineering Program requires a score higher than 600 in Mathematics of GEE and an English language proficiency of minimum B1 (intermediate). The Basic Engineering Program helps you to improve your natural science, English and soft skills. The BEP guides you into GMIT's B.Sc. programs.

Tuition fees:

B.Sc. degree program: MNT 108,000 per credit point
Accommodation on Campus (shared 4-bed room): MNT 520,000 per year
During the first four semesters, students receive a general background knowledge in science and basic engineering approaches as well as technical English. Modules in economics, accounting, computer aided design, and engineering mechanics prepare them for their future specialization in industrial engineering topics. Building on this solid basic understanding, the students specialize in industrial science and technology from the 5th to the 8th semester, including the following modules:

5

th

semester
7

th

semester

Finance I
Fundamentals of Strategy and Marketing Management
Project Management
Engineering Electives
Health-Safety-Environment
Electives

Supply Chain Management
Operations Management
Scientific Writing
Engineering Electives
Business Electives
Electives

6

th

semester
8

th

semester

Finance II
Business Informatics
Engineering Electives
Industrial Internship
Electives

Quality Management
Final Study Project
Bachelor Thesis
Electives

The strong practical focus of this Study program is underlined by modules such as the 14 week industrial internship during the 6th semester and the final study project in the 8th semester, in which GMIT students work in a group to solve a complex challenge which is defined by Mongolian industry.
Always be open to challenge yourself in new situations;
Don't always follow the common method or way of doing things, think out-of-the-box;
Industrial Engineers are professionals who work experts from different fields and connect them, so it is important to have good communication skills;
Positive attitude and curiosity is always good to have when working;
Negotiation skills are one of the most important skills to have in making agreements and contracts with other professionals;
There are times when you have to create solutions on the spot, so spontaneous problem solving is good to have;
Team building is always more productive and efficient than working individually if done right;
If you can imagine - it is possible.